Resources
Here's How To Become Part Of Our Team
Would you like to help? We're looking for people that want to share our passion for giving back to Middle Tennessee. We rely on donations, so if you have a product, service or skill you would like to donate please, contact us.
How To Get Involved
If you would like your organization listed below, please contact us.
Volunteer / Donate
Backfield in Motion
www.backfieldinmotion.org
Backfield in Motion is a non-profit organization that will focus on education through mastery of literacy and numeracy skills that leads to a high school diploma, a foundation for higher education, and the on-job skills needed to enter the world of work, while using athletics as an incentive for academic improvement.
The Community Foundation of Middle Tennessee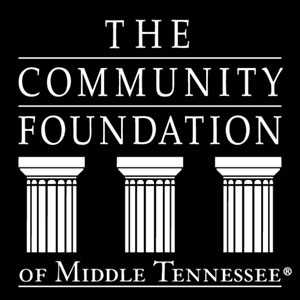 www.cfmt.org
The Community Foundation of Middle Tennessee has served as a leader in philanthropy for 29 years, bringing good people and good causes together in 43 counties in Middle Tennessee and Kentucky. Our donors come from every corner of the community to achieve their charitable goals and impact a broad range of needs. We ensure the excellent stewardship of lasting charitable funds and support nonprofits that are doing great work that matters for their communities.
Community Resource Center
www.crcnashville.org
We CONNECT high value donated goods to people in need. We PARTNER with agencies and businesses. We GENERATE opportunity to divert products from the landfill to usefulness. To provide basic essentials [and small luxuries] that improve the lives of middle Tennessee's most vulnerable neighbors and empowering our partner agencies to focus on their primary missions and services.
East Nashville Hope Exchange
www.enhopeexchange.org
East Nashville Hope Exchange (ENHE) is a program for under-served children from rising kindergarten to fifth grades. We assist children in developing and improving reading proficiency while working with the family to develop skills to help their children's literacy development.
Gideon's Army United
gideonsarmyunited.org
Gideon's Army is a community-based, grassroots organization that works to design programs, based on contemporary interpretations of the theory of restorative justice. As locally based organization with a long-term goal for state-wide expansion, Gideon's Army is currently the only local organization in Nashville that focuses solely on dismantling the school-to-prison pipeline through social activism by children in the prison pipeline, their families, and their community. Utilizing research-based best practices combined with community outreach, Gideon's Army builds its restorative justice programs based upon this information and uses program results to guide its policy work. Through intensive volunteer and community training as well as dialogue, we as a community lead and work together throughout the entire process.
Hands on Nashville
www.hon.org
Hands On Nashville (HON) builds capacity for individuals and agencies to meet needs through service. Its programs connect volunteers to opportunities supporting 100+ nonprofits, schools, and other civic organizations; help these partners reimagine volunteer potential; and bring awareness to the challenges facing the people and places in our community.
Martha O'Bryan Center
marthaobryan.org
On a foundation of Christian faith, Martha O'Bryan Center empowers children, youth, and adults in poverty to transform their lives through work, education, employment and fellowship.
Music Venue Alliance
www.mvan.org
Our close-knit organization of passionate and fiercely independent music venue owners and operators are committed to retaining and nurturing the fragile, yet complex ecosystem of every individual aspect of our famous music scene here in Nashville, TN. We seek to enlighten, educate and heighten awareness of what it means to be truly independent, and in this mission of advocacy and renewed appreciation, we hope to ensure many more decades of passion-fueled small business success and prosperity.
Nashville Book Connection
www.nashvillebookconnection.org
Nashville Book Connection connects kids with books they love to nurture their identities as readers - at home and in the classroom.
Nashville Humane Association
www.nashvillehumane.org
The Nashville Humane Association will be working closely with Metro Animal Care and Control on disaster response which includes assisting with lost and found. In addition, they will be providing crates, food, blankets, leashes, collars, and other basic supplies to those affected by the tornado.
Salvation Army
give.helpsalvationarmy.org
The Salvation Army is mobilizing disaster relief teams to help those in need in Middle Tennessee. All donations will help The Salvation Army stay on the frontlines of this crisis and enable them to provide food, water, and other disaster relief services to tornado survivors and rescue workers.
Second Harvest Food Bank of Middle Tennessee
www.secondharvestmidtn.org
Second Harvest Food Bank of Middle Tennessee opened its doors in 1978 with commitment from several community leaders. The purpose of the organization was to provide a central distribution center for companies, groups, and individuals who wished to help provide food for hungry people in Middle Tennessee.
United Way of Greater Nashville
www.unitedwaygreaternashville.org
At United Way, we bring individuals, businesses, nonprofits and government decision makers together to have the tough conversations, mobilize the resources and make the smart investments, so that every person and every family in our community thrives. We bring the community together in a way no single organization can to develop, fund and scale collective solutions that attack our community's most pressing problems at their roots.